[box03 title="special gift"]We will send you a tutorial video by email after the course.
So you can practice as many times as you like!
October 22, 2020
postscript
Mayunabe [/box03]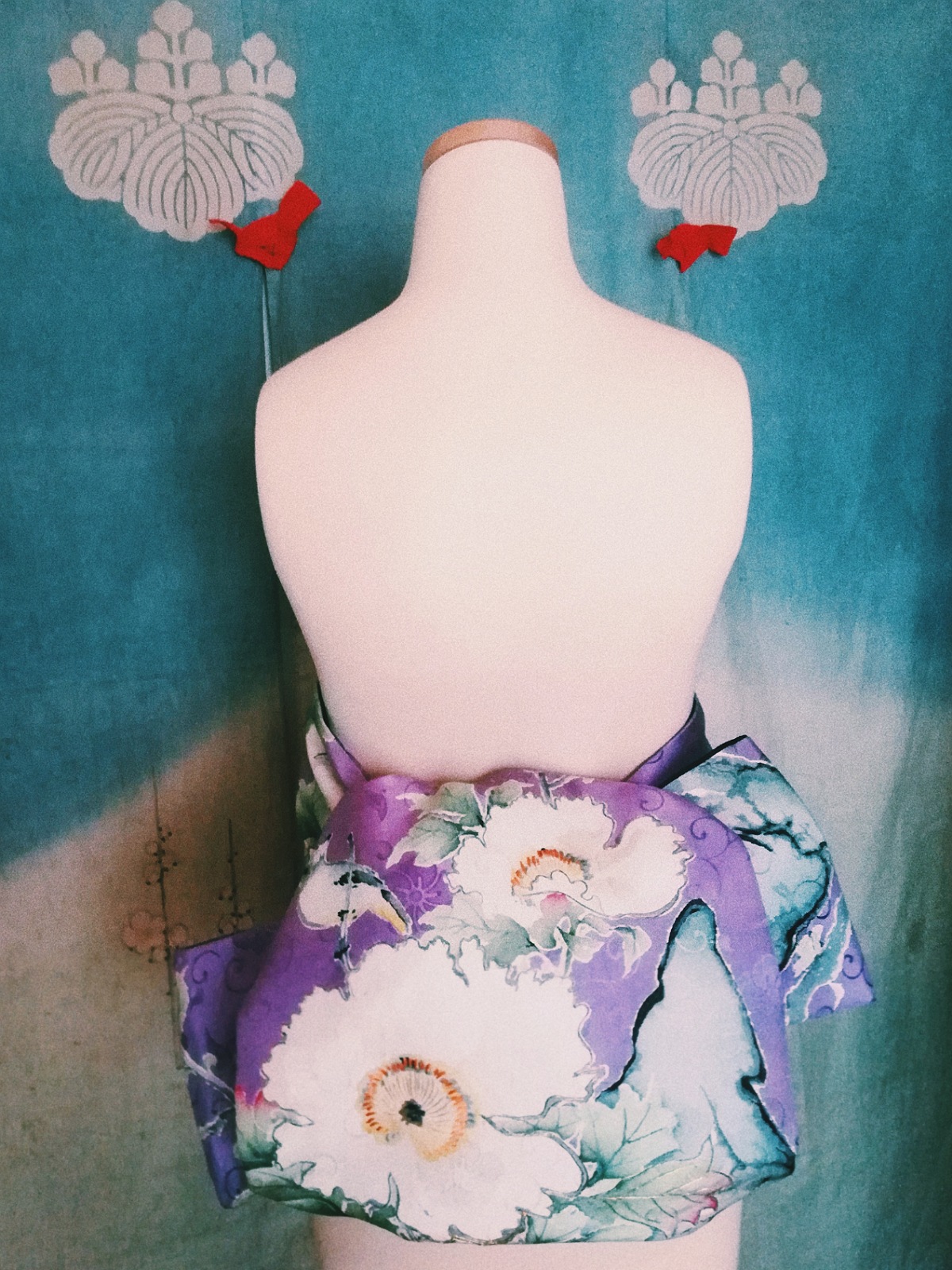 Otaiko-musubi" was invented about 170 years ago by Fukagawa Geisha who were the fashion leaders in Edo period.
It is one of the most common Obi Style among Japanese women in the present.
However, the original Otaiko-musubi was  tied in a different way from the present one.
In this course, you can learn the original Otaiko-musubi which was tied in Edo period.
It is simple but a very unique method. You will see the difference between the present style and the olden time style.
Enjoy the orginal Otaiko-musubi and experience nostalgic kimono styling!
[jin-sen color="#f7f7f7″ size="3px"]
Members Introduction
This time, we welcomed Sala, a kimono stylist who is especially popular in Melbourne.
Realized by simultaneous English translation of "Original Taiko Knotting Course"!
✈********************✈
Old book collector★Mayunabe
Kimono lovers who are paying attention to the memos written by Japanese housewives in practical books in the early Showa period. A researcher who unravels the mysteries of history that no one knows.
If you want to know the activity,please visit☟
[jin-tensen color="#f7f7f7″ size="3px"]
Special guest★Kimonostylist SalaOkabe
Melbourne, Australia based kimono stylist and owner of Vintage Kimono Shop in Australia "Vintage Japanese Textiles".
If you want to know the activity,please visit☟
[jin-tensen color="#f7f7f7″ size="3px"]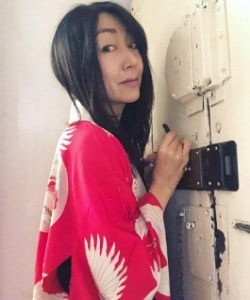 ★Special assistant★Vintage Flea di Kay
profile*
Kay-Vintage&Antique Japanese Kimono Addiction born in shibuya live in milan. I♥️the 'era'of handcraft.
If you want to have one,please visit☟
*Kay's instagram
*Kay's Shop
(Ship only for europe)
※お席に限りがある為、日本語応対可能な方は今回参加できません。ご了承下さい
Due to the limited number of participants, those who can speak Japanese cannot participate this time. please note that
※We will consider other language versions and projects in the future ♪ Please look forward to it ☆
| | |
| --- | --- |
| Demonstration | Mayunabe |
| Interpreter | Sala |
| assistant | Kay |
obi knot in the Edo period learning online&English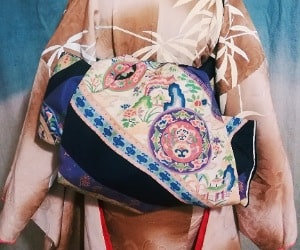 The first obi knot taught in the kimono fitting class is the "taiko knot".The origin is well known on the internet, but it is very difficult to find material related to the original taiko knot.
The band style of the image was discovered by examining the original forms of old books and books.
This is a course to learn a rare obi knot that no one knows!
Course name
Back to pioneers style
~Edo style obi knot ① Original Otaiko knot~
Language
English
Date and time
November 8, 2020
8:00 pm Japan time
Time
1 hour
Maximum number of participants
6 people
price
Japanese Yen: 4500 Yen
method of payment
credit card
Things to prepare
①A device: PC , tablet or Mobile phone (Please make sure its battery is fully
charged)
②Zoom app
③Chuya Obi , soft Fukuro Obi or soft Maru Obi
special gift
We will send you a tutorial video by email after the course.
So you can practice as many times as you like!
※Recruitment starts from
8:00 pm Japan time on October 26, 2020
Please read the notes below carefully before
you participate in our course.
Any solicitations for your business or groups
are prohibited.
Our recoded movies are not sold individually,
so please participate my class with Zoom
The tutor may urge observers who fails to obey
the instructions or risk of interfere with others
Recording, taking photos or posting the
contents of our course to social media
platforms without our permission is prohibited
We appreciate all your observes etiquette.
[box04 title="Cancellation policy"]
A full refund will be given through the credit company only if you contact us by 19:00 JST two days before the course.
However, it may be difficult to take the course from the next time. Please note that.
* Please be sure to contact the "email sent at the time of application" for cancellation notification.
* Cancellations after the above will not be refunded. Please understand.
[/box04]
participate in the course
Recruitment starts
October 26, 2020 Japan time 8:00 pm
>>Participate in the course<<
Message from mayunabe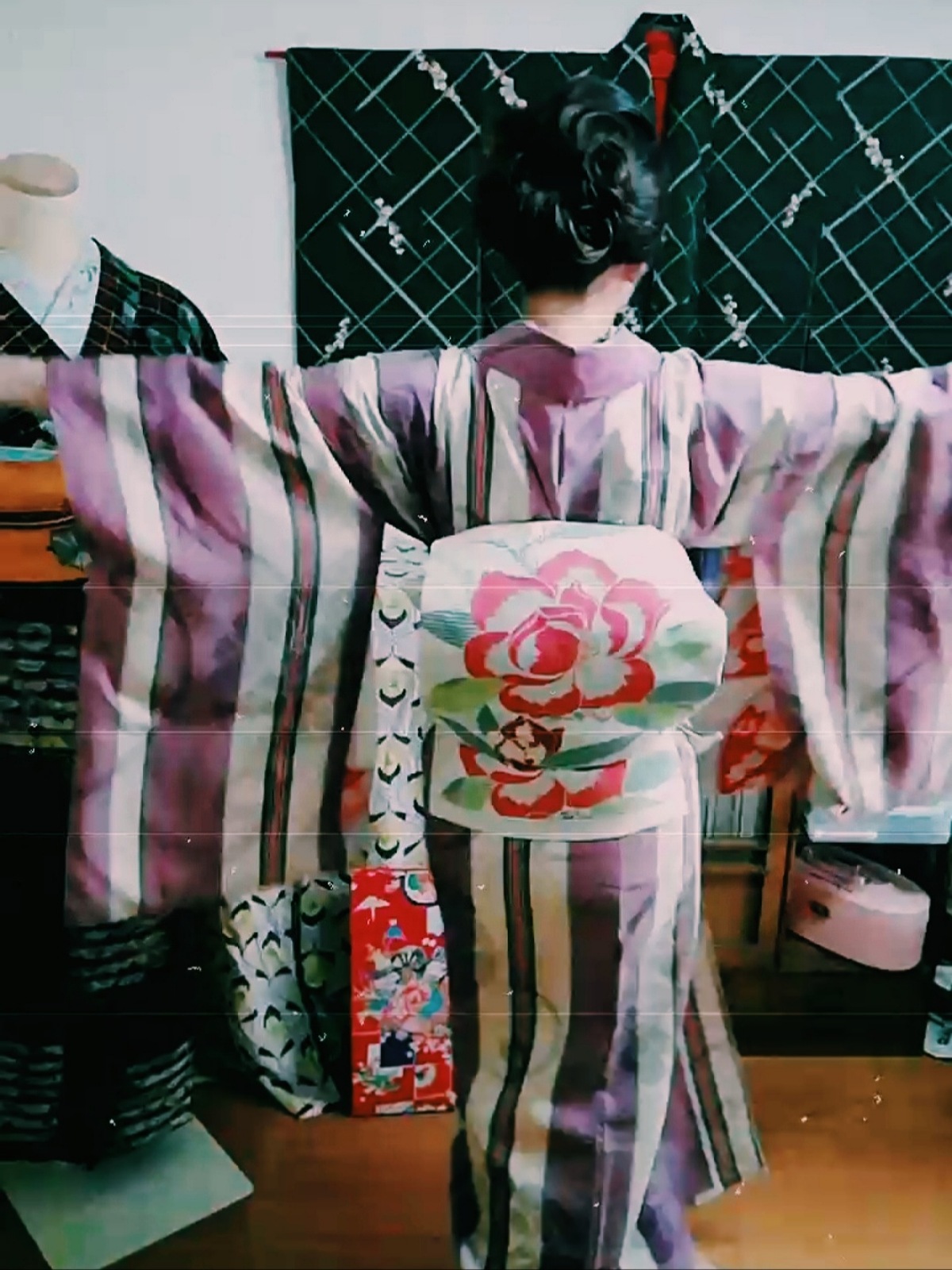 Hi, I'm Mayunabe.
I do not speak English. But the reason for this challenge is
It was a polite DM that arrived from overseas.
And, thanks to the support of my best friends Sala and Kay, I can challenge!
When I read Facebook, I found that many people overseas are very interested in Japanese historical costumes.
Kimono fitting can often seem very difficult.
But originally, it's a very, very freedom and wonderful outfit!
I think the correct answer for kimono fitting is to fit and enjoy as you like.
I want to convey it forever.
We love all kimono lovers★☆★
Regards,
Mayunabe
Special thanks
Sala&Kay